Rosalie Forest & 3 Rivers Eco Lodge is the perfect place to relax, unwind, and do nothing except laze about enjoying our natural surroundings.
However, for those of you who prefer a more active holiday, we offer a daily programme of exciting and interesting activities, both on and off site. Hopefully we have something to suit the taste of every visitor.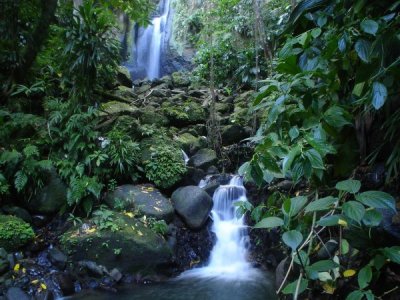 All prices include tax and service charge.
Prices are PER PERSON
CLICK ON ACTIVITY NAME FOR MORE INFORMATION
We recommend advance reservations to avoid disappointment.
ACTIVITY

Click tour name for full details

US$ per person

minimum 2 people required

THE KALINAGO CARIB MODEL VILLAGE

'l'escalier de tete chien'

THE EMERALD POOL

125

BAMBOO & COCONUT CRAFT WORKSHOP

Spend half a day, crafting your own cups, vases, ash trays, or anything else you feel like trying. You have now made the perfect gift for your friends and family.

50

WAVINE CYRIQUE FALLS & ROSALIE POOLS

ABA WAVINE CYRIQUE - ONE OF EARTH'S SPECIAL PLACES BUT NOT FOR THE FAINT HEARTED - if you get Vetigo : DON'T GO !!!

80

Macoucherie Rum Factory,

Indian River Boat Tour,

Cabritz National Park

150

Titou Gauge,

Trafalgar Falls,

and lots of hot sulphur springs

150

The trail to the world's 2nd largest BOILING LAKE is perhaps the most spectacular of Dominica's hikes. Officially described as "a stenuous 3-hour each way hike", the trail is very well-maintained, and, after warming up on some of the island's shorter walks, is well worth the effort.

150

The Freshwater Lake, Dominica's largest lake, located 2,500 feet above sea level, is about a three hour hike from the eco lodge, with truly spectacular views across the mountains back down to Rosalie Bay, and down to the west coast.

80

VICTORIA FALLS & 3 BASIN FALLS

THE FRESHWATER LAKE HIKE

WHITE RIVER

BASINS FALLS

100

DIVING– 2 tanks 2 dives, including taxi transport

Dominica : home to some of the most spectacular marine life on the planet, making it perfect for snorkelling or scuba diving.

180

WHALE WATCHING afternoon boat tour including taxi transport

With a family of Sperm whales resident around Dominica, you will almost certainly get to see these enormous, majestic creatures up close during your whale watching trip . Rum punch included


180

DONKEY RIDE 1 hour with Gary.

You can also discover the local area on the back of our donkey, Gary.

20

BIRD WATCHING with expert guide, including transport

If it is birds that you like to see, then a serious expert guide is the guide in our bird watching tour. He knows Dominica's birds well, and can take you directly to their nests and call for those who do not show themselves to you.

180

PROFESSIONAL MASSAGE in your room

Get a professional massage in the comfort of your own room; the best way to relax after a strenuous and adventurous day.

80

RENEWABLE ENERGY workshop

Renewable energy workshops, solar, wind, hydro and more...

120

HORSE RIDING including taxi transport

180
... if all this is too much, just relax and enjoy the natural beauty of
3 Rivers & Rosalie Forest Eco Lodge